Men. Man, they are SO hard to buy for. Even MORE difficult to sew for. If you'd like to gift a little something to a special man in your life, this wallet could be just the thing.
This bi-fold wallet is made with leftover leather scraps I had from making a
bag
. If you don't have any leather in your sewing stash, you can think about upcycling an old purse you don't use anymore or perhaps that 80s leather jacket in the front hall closet. You could also try searching
scrap leather on etsy
or I purchased mine (as a full hide) at
Tandy
.
Materials.
(1) 4 1/4" x 6" rectangle leather (back)
(2) 2 1/4" x 4 1/4" rectangles leather (pocket 1)
(2) 1 7/8" x 4 1/4" rectangles leather (pocket 2)
(2) 1" x 3 1/2" rectangles cotton (fabric accent)
coordinating thread
leather needle for your sewing machine
walking foot (suggested)
Instructions.
1. Begin by cutting all pieces to size as called out in the Materials section.
2. Sew the 1" x 3 1/2" fabric accents right side up to the right side of the 1 7/8" x 4 1/4" pocket 2 pieces. Sew these with a wide zig zag stitch and sew around all four sides of the fabric accent rectangles. Once leather is pierced, the hole remains, so my advice is to sew slowly. I also do not pin because I do not want any additional holes in the leather. You may tack the fabric to the pocket piece using a little bit of glue from a glue stick. I did not, but this may help the fabric from slipping while you sew. (In the next photo you can see my fabric accent slipped a little while I was sewing. This was due to haste. Sew slowly!)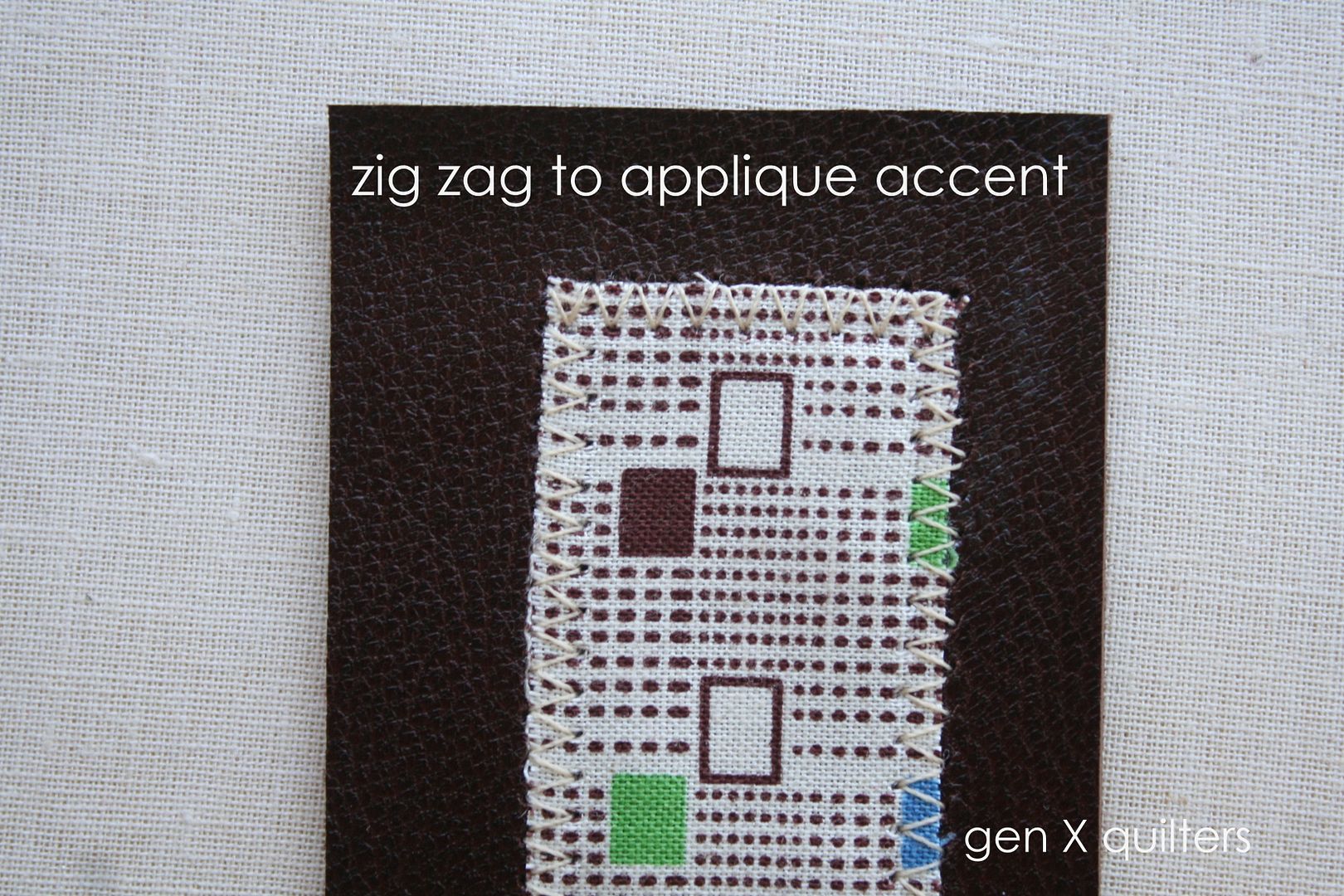 3. To prepare to stitch all 3 layers together, lay the back wrong side up. Next lay the pocket 1 piece (2 1/4" x 4 1/4") right side up on top of the back. Then lay the pocket 2 piece on top of the pocket 1 piece. Align all 3 layers with the right side of the back, and also aligning all layers top to bottom. Repeat for the pocket pieces on the left hand side. Binding clips can help secure the layers.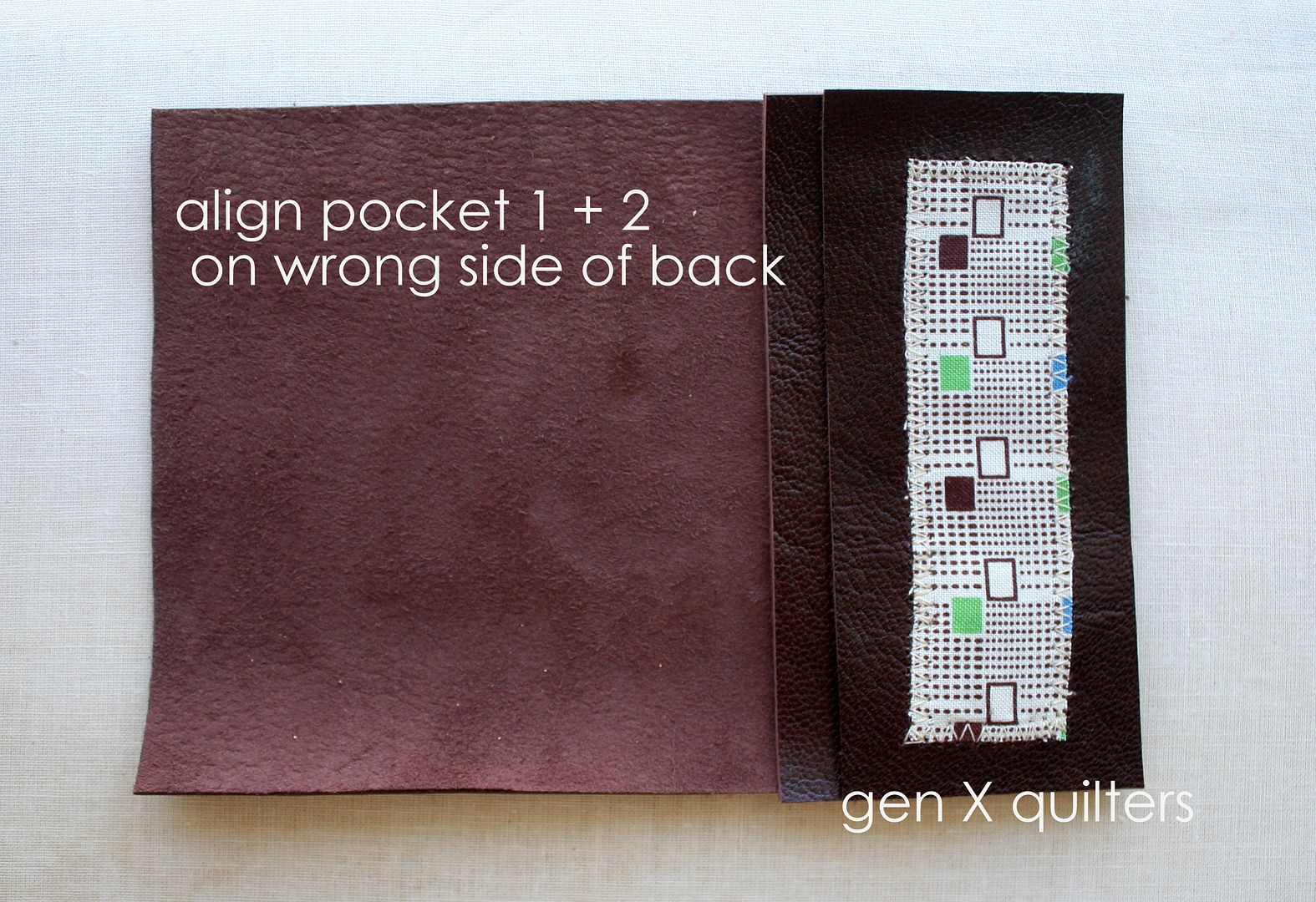 4. Before you begin to sew, lengthen the stitch length on your machine. Most machines default to a small stitch length - primarily used for sewing cottons. To stitch through leather, we do not want to create too many holes too close together as it will weaken the leather. My machine's default stitch length is 2.2. I changed it to 3.0 for this project.
I also highly recommend using a walking foot. The walking foot feed dogs will help feed all layers through evenly.
5. Stitch all layers together 1/8" from the edge using a walking foot. Back stitch at the beginning and end. Again, sew slowly and carefully! Square up and trim any excess as needed. Done!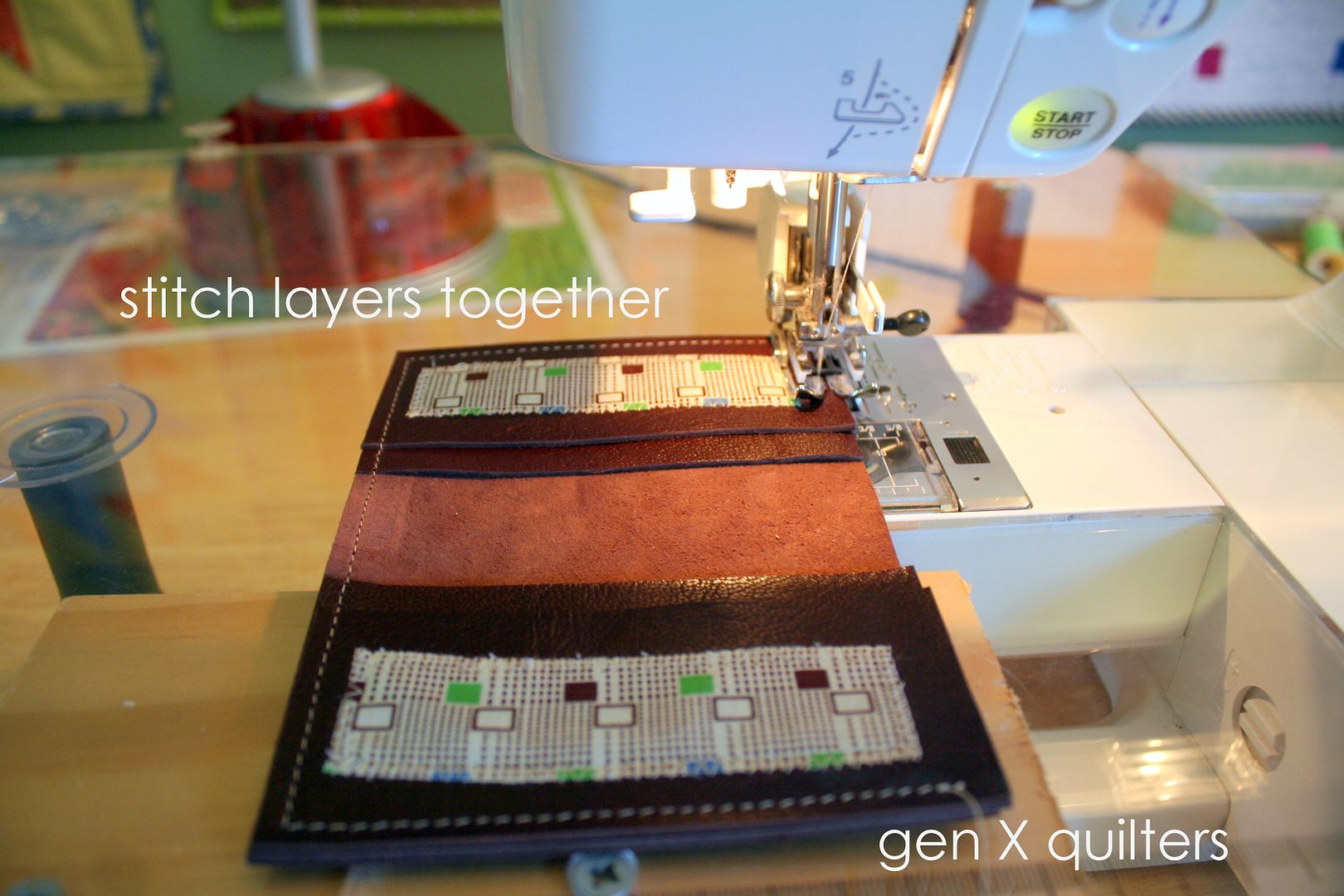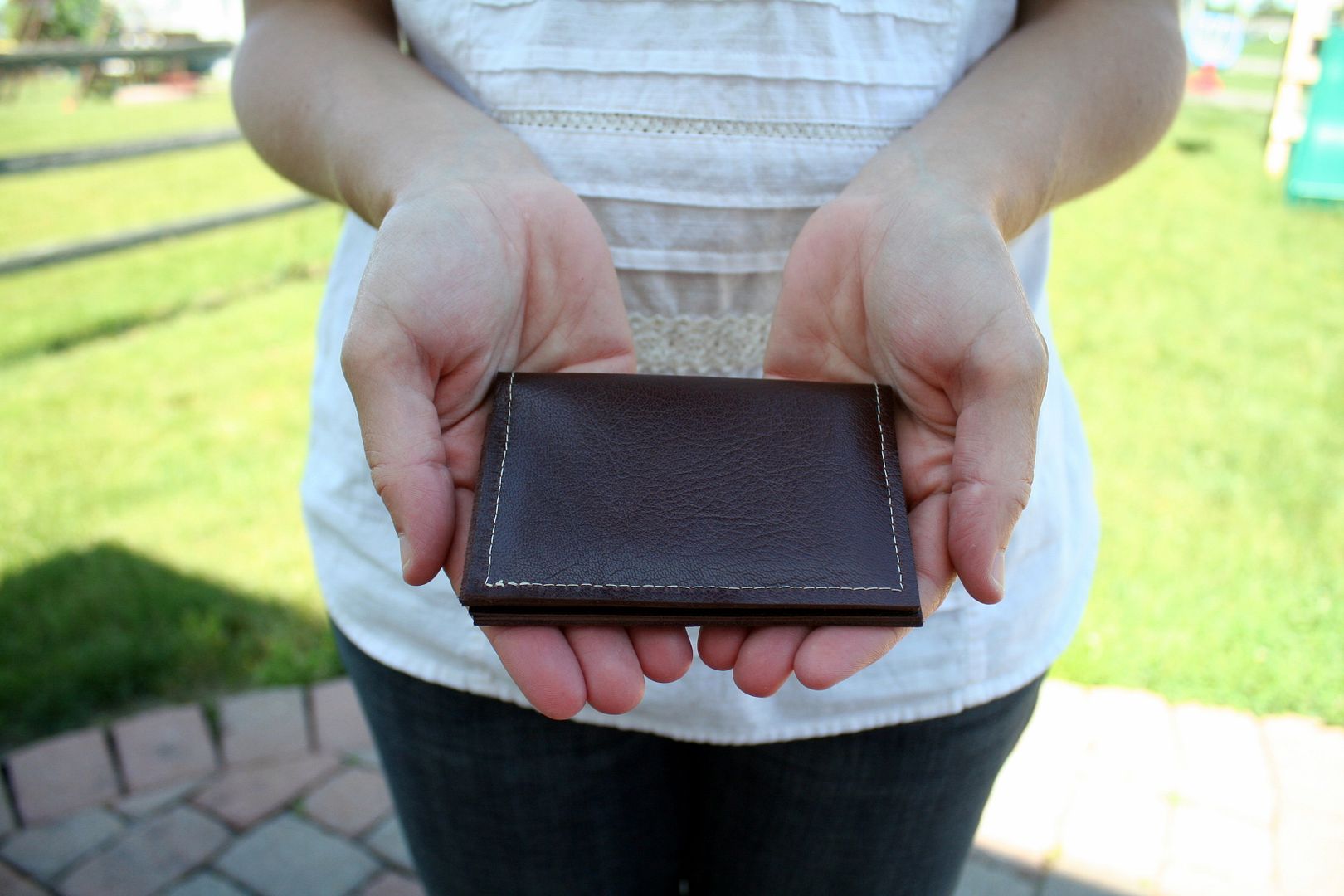 I made this wallet for my husband for his birthday. He moved into it immediately. I hadn't even taken my bloggy photos yet - so I had to steal it back to get some shots.